"

WE'RE FROM NORTHEAST TEXAS AND WE PLAY ROCK N ROLLIN, HONKY TONK STOMPIN, BACKWOODS, BARETOOTH, COUNTRY BLUES MUSIC FOR THE AGING YOUTH"
— IZZY DED
WHO TO CONTACT FOR BOOKING
Colton Sanders
IDKIZZYDED@gmail.com
what they call a "band bio"
IZZY DED & The Existential Dread is a Texas Country Rock N' Roll band based in Paris, Texas. Their music pulls deep from within the psyche of the aging country-boy mentality as the common urge to get out does war with the need to dig in.
IZZY DED describes the band's sound as, "Backwoods Rock N' Rollin, Honky-Tonk Stompin', Baretooth Country Blues Music for the here and now."
The band loves their mamas and their grandmamas. They like long trips to the South Coast, long walks on those Southern beaches, and cool Texas Autumn weather. They'll play any honky-tonkin' dive they can find and it's said they can match the volume of a freight train. IZZY DED & The Existential Dread are alive and well, and they want you to believe in yourself.
The band came together in 2021, less than two years after songwriter Colton Sanders of Caviness, Texas and lead guitarist Orrin Vanderburg of Paris, Texas were introduced to each other at a local pub, and began playing and writing music together. They soon found their rhythm with drummer Antonio Wagnon, of Sun Valley, Texas some months later, and finally added some low-end to the live-show lineup in 2023 with bassist/guitarist Estefan Mendoza of El Paso.
After releasing two singles, "Red Freightliner Blues" and "All The Good Horses" in early 2022, IZZY DED & The Existential Dread began recording a full length album in September 2022 at Denim Diablo Sound in Dallas, Texas with producer Ryan Michael (The Roomsounds, Kirk Holloway, Black Water Hose, King Clam).
They released their next single, "Mama's Only Child" off the upcoming album in November 2022, and wrapped up recording in Early 2023. Those recordings were then mastered by Todd Pipes (Deep Blue Something) at Phantom Power Mastering Studios in Dallas, Texas.
IZZY DED & The Existential Dread independently released their debut 12-track full-length record "What Hurts Most" under the name "IZZY DED" on Friday, October 13, 2023.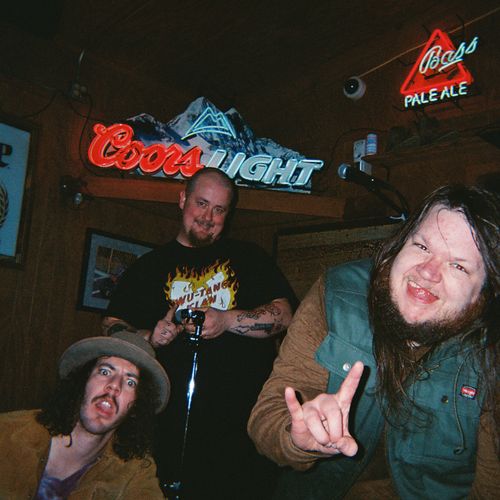 IZZY DED & The Existential dread
at izzy ded's birthday bash at buffalo joe's in paris, texas november 2022
From left to right: Orrin Vandy (Lead guitar), Antonio Wagnon (Drums), and Colton Sanders AKA IZZY DED (Vocals, Rhythm Guitar). Estefan Mendoza (Bass) not pictured.
what we sound like
All The Good Horses
IZZY DED
Mama's Only Child (Album Version)
IZZY DED
0:00/4:24

0:00/3:20

0:00/3:40

0:00/4:07
what we look like when we're sweaty
what we put out as our first single in 2022